---
Stad Amsterdam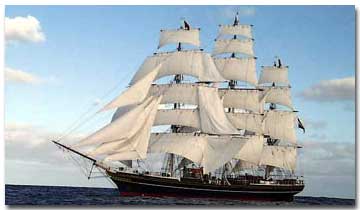 250'
28 guests, 25 crew
This Classic Clipper sailing yacht has 14 identical cabins each with two twin lower singles plus 2 pullman berths, en suite head & shower. A/C, phone and TV in each cabin. Bar on deck, bar in longroom. Library and sick bay.
A rich history goes hand in hand with contemporary comfort on board the Clipper Stad Amsterdam. Modern technology was used to combine the best features of famous, 19th century clippers with new design. Speed, a slender line, impressive sails, and the promise of adventure as you board. That is the Stad Amsterdam. Built at the end of the last century, between 1997 and 2000, and baptized in the new Millennium, this clipper spans the bridge of history. This ship may rightfully be called "the Pride of the Low Countries". She draws a crowd wherever she goes.
The ship has been comfortably appointed and offers every convenience.
Cabins have their own bathroom, air-conditioning, telephone and television.
In the spacious and warmly appointed Long Room, a small ship's library can be found, reading tables and comfortable sitting nooks.Here, movies are shown, the captain holds his lectures, and you can enjoy excellent meals in peace and quiet. The ship actually speaks for herself. Comfort comes first. While building the Stad Amsterdam, a combination of historical clipper charm combined with the safety norms and regulations of modern times were chosen.